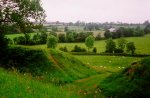 "The term "Scotch-Irish" is an Americanism, generally unknown in Scotland and Ireland, and rarely used by British historians. In American usage, it refers to people of Scottish descent who, having lived for a time in the north of Ireland, migrated in considerable numbers to the American colonies in the eighteenth century." The Scotch-Irish, A Social History by James G. Leyburn.
The Plantations of Ireland are divided into three different segments; Ulster, Cromwellian, and Williamite. This work begins with the Ulster Plantations around the time in which William Caldwell of Stratton, Ayrshire, Decendant of William Caldwell, Prebendary of Glasgow and Lord Chancellor of Scotland (c. 1349), may have migrated to Donegal County, Ireland. John, son of William, who married Mary Sweetenham, is said to have been born in Donegal County in June of 1603 although the plantations of Ulster didn't begin in earnest until 1606.
Plunkett Caldwell of Northern Ireland, along with David Caldwell, point out that John was in fact born in Preston, Ayrshire as is recorded in the archive in public records office (North Ireland) ref T808 15073.
It was at the end of the the Nine Years' War in 1603 when King James VI of Scotland became King James I of England and brought about a major change in direction for Ireland. The existing Scottish and English families in Ireland expected a better deal from the Protestant King James than they actually received.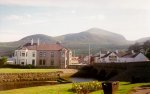 Estates would be granted to three kinds of people: English and Scottish settlers, who were not allowed to have Irish tenants; Servitors (men who had served in the English army in Ireland), who might take both British and Irish tenants; and Irishmen, who could have Irish tenants. Rents were low, but settlers were expected to build fortified houses. These colonists were required to rent this land to Protestant tenants who would cultivate it and defend it against the native Irish.
The majority of the settlers of the Ulster Plantation would be Scots. The Lowland Scots were enticed by the prospect of building permanent homes on better farmland with the hope to be free of having their homes destroyed by Highland Scots and the English.
In Ireland, land was the symbol of power as well as the source of wealth, so the idea behind plantation was to take the land away from the Catholic Irish and replace them with English and Scottish settlers. This meant that a new Protestant community could be established to weaken Catholic Irish resistance to English rule. The English and Lowland Scots would become prosperous in Ulster only to further embittered the native Irish who had been pushed away from their ancestral homes and condemned for their Catholic faith.
This was also the time of the Reformation and Lowland Scots were accepting of Presbyterianism. King James instituted a series of ecclesiastical reforms which included the change from the Presbyterian to the Episcopal form of church government. Many of the Presbyterian ministers favored the migration to Ireland to end a return to Catholicism as had happened under Queen Mary I.
In defiance of this, Cahir O'Doherty of Inishowen led an uprising from north Donegal in 1608. He captured both Derry and Strabane before advancing into mid-Ulster. O'Doherty was killed near Kilmacrennan on July 5th and the uprising was over soon afterward. Other Ulster chieftains like O'Hanlon in Armagh and McMahon in Monaghan had joined in the rebellion but, following Cahir's death and the failure of the effort, their lands were also declared confiscate.
Of Cahir's death and the Plantation of Ulster, the "Four Masters" wrote, "He was cut into quarters between Derry and Cuil-mor, and his head was sent to Dublin to be exhibited; and many of the gentlemen and chieftains of the province, too numerous to be particularised, were also put to death. It was indeed from it, and from the departure of the Earls we have mentioned, it came to pass that their principalities, their territories, their estates, their lands, their forts, their fortresses, their fruitful harbours, and their fishful bays, were taken from the Irish of the province of Ulster and given in their presence to foreign tribes; and they (the Irish) were expelled and banished into other countries, where most of them died."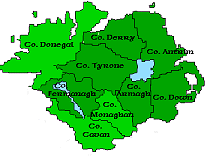 The plans for the Ulster Plantation were the most ambitious undertaken to date and involved the confiscation of three million acres, or about 30% of Ireland. The Ulster land confiscations were directed almost exclusively at the Gaelic lords and their supporters who had been defeated at Kinsale: O'Neill, O'Donnell, O'Reilly, O'Hanlon, O'Doherty and others.
The native Irish were to be taken from the Province of Old Ulster in the counties of Antrim, Down, Armagh, Tyrone, Donegal, Cavan, Fermanagh, and Londonderry, and Derry (formerly Coleraine), and moved into segregated areas. The confiscated land was to be granted at low rents to English and Lowland Scots settlers in portions of one to two thousand acres. These colonists were required to rent the land to Protestant tenants who would cultivate it and defend it against the native Irish.
The first to be granted land were two Scottish landlords from Ayrshire, Hugh Montgomery, Sixth Laird of Braidstone, and Sir James Hamilton in 1606. By 1610, a detailed and rigidly controlled plan for the settlement of Counties Armagh, Donegal, Cavan, Fermanagh, and Londonderry had been developed and put underway.
Baronies, or precincts, would be divided into lots of 1000, 1500, and 2000 acres, not including bogs and mountains. Those who received these lots would be known as "Undertakers". Over each barony or precinct was placed a Chief Undertaker, who was allowed to receive up to 3000 acres of land. Chief Undertakers were chosen by the King and included one Duke, one Earl, three Barons and four Knights.
Fifty ordinary Undertakers would then be chosen by the Chiefs. For every 1000 acres received, there was to be 24 able bodied Scots or Englishmen heading families to minimize old clan allegiances. Two of the families were to be freeholders; three were to be leaseholders, and the remainder could be cottagers. Undertakers had to be prepared to muster their tenants twice a year and to provide them with weapons. They were to be called on to fight any insurrections of the Irish.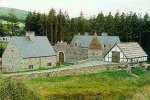 Undertakers were given three and one half years to erect fortifications, the type determined by the size of the lot granted. Men of 2000 acres were required to build a small castle of stone or brick, with a stone wall surrounding it. All Undertakers had to post bonds, as a guarantee that they would comply with the conditions. Failure to comply resulted in forfeiture of the land. Reporting requirements resulted in the production of countless muster rolls and maps, many of which have survived. Because of surviving muster rolls and maps, the names of most of the original planters can be determined. By 1622, there were between 3000 and 4000 Scottish adults on the land in these six counties.
Nine extensive areas of the six counties were to be assigned to Scots for plantation. As many as 200,000 Scots would cross the North Channel to settle in Ulster during an almost 90 year period following.
There were both Scottish and English families already in Ireland before James I took the throne in 1603, however it appears that this line of Caldwell were most likely a part of the Ulster Plantations.
By 1620 there were an estimated 50,000 Scottish, with some English, settlers in the province of Ulster in Northern Ireland.