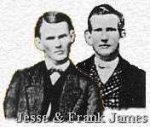 I remember my father telling me a story that his grandfather had told him, when I was maybe 8 years, about Jesse James robbing a bank in Corydon, Iowa. It's well known that Jesse stopped briefly at the church on the way out of town after robbing the bank and interrupted the minister to announce that "some riders" had just robbed the town's bank. "You folks best get down there in a hurry."
The way I remember the story was that Jesse and at least his brother, Frank, came to the farm of a relation after robbing the Ocobock Brothers' Bank of approximately $6,000 on the 3rd of June, 1871.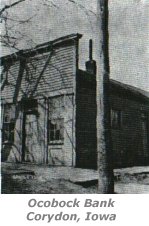 Apparently this relative made no connection of these riders to the James Gang, or perhaps the news of the robbery had not yet made its way to all the outlying farms. It was told that the riders came to the farm in the evening, looking for a place to rest. The lady of the house allowed them to stay the evening in the barn, and offered to share her evening meal.
She apologized for the meal not being much, explaining that times had been hard on the farm recently, but that they were welcome to share in what she had. When she awoke the next morning the riders had gone, leaving behind a nice little sum of cash in gratitude for her kindness.
I have no way of confirming how much of this story is true, an my father is gone 16 years, in 2002. I've asked other relatives, mostly in their 80s if they remember this story. Some say that it has a familiar ring, but don't remember any details.
I brought this up to a newfound cousin, descendent from the line of the a brother to my ancestor, and one of the three brothers (it's a real 3 brothers story) who came to Iowa in 1855. This cousin, Dale Garton, said that he had also heard this story before, but couldn't find anyone in his line that remembered any more than in mine.
---
On 9 September 2003, Brenda Roseberry of Lincoln, Nebraska writes:
I was searching through Google, and entered my grandfather's name, Jesse Caldwell. I thought it was ironic that this website on Jesse James appeared. This is the first time I have ever searched under my grandfather's name.

My mother's maiden name is Katherine Caldwell, daughter of Jesse Hagen Caldwell, from Swanton, Nebraska, who passed away in 1980.

In the past, my mother has mentioned that we are related to Jesse James in a very, very distant way, but was never really sure how. From the information on your website, I was not able to connect the Caldwell name to Jesse James. I am a bit confused as to how the two names are related.
From Steven Omar Caldwell on 12 November 2003:
I did find it interesting that the Jesse James story on your site was one I can remember hearing from my grandmother, Norma (Dillon) Caldwell when I was very young. It was much as your story relates only I beleive it was in her telling the farm of her husband Omar Caldwell's mother that Jesse stopped at.

Interestingly as Grandma Norma passed away in Oct of 1971 she never had the Internet & so I'm assuming the story was passed through the family. No one really gave much credibility to her tale & sadly now the only elder of our branch here my mother "Edna Pearl Caldwell" at 82 can only remember her telling the story but few of the details.
Julie Bracewell Cheche adds more on 24 November 2003:
I was searching for more info on our Hartely Bracewell and thought I would let you know that it was his farmstead that Jesse James happened upon after the robbery in Corydon Iowa.

Julie adds:

Here is the letter that I will copy (since it's too faint to scan) regarding the robbery with Jesse James:

"Aunt Rica – when a young girl had a "pulp" book on Jesse James which her mother made her burn"

***********************************

Jesse and Frank James came to Corydon Iowa. They went first to the County Treasurer's office in the Court House. The treasurer said "Sorry boys. I have just made a large deposit in the bank across the street." So the gang went over there and robbed the bank. There was no one in the bank except the president and the cashier because of a big tent revival meeting at the edge of town. After the robbery , they went out there and cut the horses of the revival meeting attendees loose from the hitching post and Frank said that he knew there were all God-fearing people but if you want to do something for your fellow men there are two men locked up the the bank vault.

The James gang rode six miles from Corydon and three more miles to Grandfather Bracewell's and asked to stay the night. Grandfather, not knowing who they were, said they were welcome to stay the night. He said that if any of them were smoking men to please not use any matches because he did not want to take any chances o nthe hay catching on fire.

The next morning, a posse stationed themselves ahead of the gang behind two hedges on either side of a narrow road. When the James boys approached this point, Frank sensed it might be a good p0oint for an anbush so he pulled back his linen duster, thus exposing two guns ready to be drawn. No one in the posse did a thing and the gang got away.

****************************
" The above attachment came from the memoirs of Fredrica Bracewell. I'm Grateful to Carolyn Fox Ericson who forwarded it to me (James Bracewell)
The Grandfather referred to above was Hartley Bracewell. The farm being the old Bracewell homestead 3.5 miles west of Allerton where I, James N. Bracewell was born and raised "